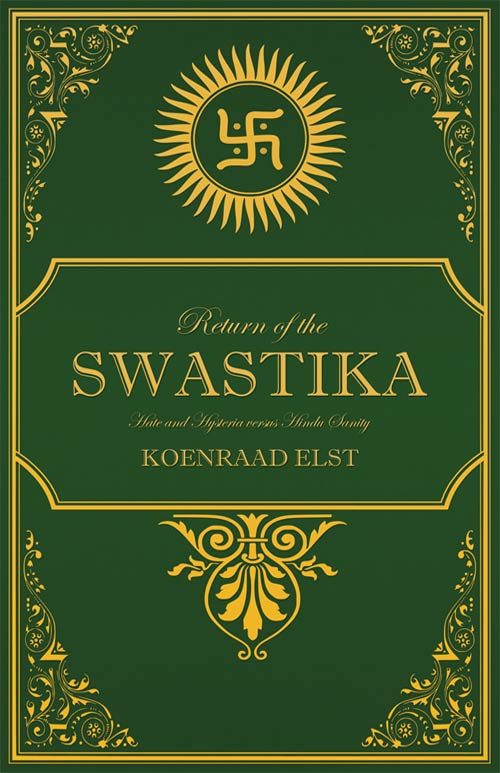 Return of the Swastika: Hate and Hysteria versus Hindu Sanity
Return of the Swastika presents a collection of essays by the Belgian historian and Indologist Koenraad Elst, who is renowned for his writings on Indian history and Hindu nationalism. The subjects of these essays are manifold, ranging over issues pertaining to the Hindu Right, communitarianism, the European New Right, immigration from Islamic countries, fascism both historical and contemporary, and European neo-paganism. Several of the essays also discuss the alleged connections between Hinduism and the more esoteric and pagan-oriented elements of Nazism, including a critique of the neo-Nazi mystic Savitri Devi, who attempted to depict Hitler as an avatar of the Hindu god Vishnu. The running theme through all of these essays is Elst's exploration of how ideas and symbols are misrepresented by their opponents and those who seek to alter their meanings for their own purposes, and an insistence on understanding things as they are rather than through their representation by others. For Elst, the Nazi appropriation of the swastika, one of the most ancient symbols of human civilisation and a sacred sign of Hinduism, and its subsequent demonisation by anti-fascists in the West is a case in point. The answer is not to ban the swastika, and thus cede the right to define it to those who misuse it, but rather to insist on its actual meaning, allowing it to be reborn and to flourish freely once again.
Koenraad Elst (b. 1959), born in Leuven, Belgium, lived and studied in India for years, and later received his doctorate from the Catholic University of Leuven in 1998. He has published many essays and articles, and nearly 20 books on topics related to modern Hinduism and its political aspects, including the monumental two-volume The Saffron Swastika: The Notion of Hindu Fascism, which is the definitive documentation of the alleged connections between Hinduism and the European fascist movements and disproves the notion, often propagated by its critics, that Hindu nationalism is fascist in nature. His work has earned praise from many prominent Indian thinkers.

Amazon.com Price: $19.95 (as of 30/01/2023 09:41 PST- Details)
Additional information
| | |
| --- | --- |
| Author | Koenraad Elst |
| Binding | Paperback |
| ISBN-13 | 978-1-910524-18-3 |
| ISBN-10 | 1910524182 |
| Languages | English |
| Number Of Items | 1 |
| Number Of Pages | 268 |
| Product Group | Book |
| Publication Date | 2015-02-18 |
| Publisher | Arktos Media Ltd |