"Today, the world trembles before mutants, as it should. We are the next step in evolution, the superior species. It is our destiny to dominate, to rise above mankind's feeble limitations, and mold the Earth to suit our goals." – Magneto
Twitter's outgoing CEO Elon Musk is at it again, rattling the cages of the woke brigade, and this time he has his sights set on Democrat sugar daddy George Soros. In a bold move, Musk compared Soros to the notorious Jewish supervillain Magneto from the Marvel universe. Unfazed by the Marvel character's Holocaust survivor backstory, Musk tweeted, "Soros reminds me of Magneto."
This statement cuts straight to the heart of the matter. Some argue that, for too long, Soros has played Bond-villain-style manipulator behind the scenes, bankrolling leftist causes and shaping public opinion with his deep pockets. Just like Magneto, Soros is not afraid to flex his powers – financial, not magnetic – to shape the world according to his vision.
Musk's forthright manner certainly distinguishes him from the typical Silicon Valley crowd. Where others might tiptoe around the matter, Musk has no qualms about telling it like he thinks it is. He is a disruptor at heart, and his latest jab at Soros shows he has no intention of toning down his rhetoric. Sure, the left-leaning Twitter echo chamber may be in an uproar, but Musk is not one to shy away from a touch of controversy. After all, when standing up to the likes of Soros, it is those who refuse to be quieted who get noticed.
By putting a high-profile figure like Soros under the microscope, Musk is doing what many would not dare: tearing down the smokescreen that has long obscured the machinations of those running the Left's puppet show.
Magneto is a character with a harrowing past and a twisted outlook on humans. As a Holocaust survivor, he has seen the worst of mankind, and he has taken it upon himself to protect his fellow mutants using his extraordinary power over magnetic fields, even if it means adopting ruthless tactics to force mankind below the mutants in the food chain. George Soros, another Holocaust survivor, has also garnered a reputation for himself – not as a comic book villain but as a real-life one. This billionaire has built a fortune as a financier, and he is not shy about meddling in political affairs, often supporting radical left-wing causes. A lot of people maintain that both Soros and Magneto share an underlying disdain for mankind, and though their methods may differ, they each wield their influence with a sinister determination to realize their dream of a world transformed.
Never one to mince his words, Musk continued his critique with a sharp assertion, saying, "You assume they are good intentions. They are not. He wants to erode the very fabric of civilization. Soros hates humanity." This statement, an unfiltered and blunt criticism of Soros, is as audacious as it is invigorating. It shows Musk's refusal to conform to the gentler norms of public discourse when addressing figures he perceives as threats to society. It is a breath of fresh air in an era where many influencers and public figures try to avoid such sensitive topics. Furthermore, Musk's words serve as a potent reminder of the underlying concerns many have about Soros' influence on global politics.
Naturally, the chief of the Anti-Defamation League, Jonathan Greenblatt, had his feathers ruffled. According to him, Soros is often "held up by the far-right, using anti-Semitic tropes, as the source of the world's problems." He added in a tweet that "[t]o see @ElonMusk, regardless of his intent, feed this segment – comparing him to a Jewish supervillain, claiming Soros 'hates humanity' – is not just distressing, it's dangerous: it will embolden extremists who already contrive anti-Jewish conspiracies and have tried to attack Soros and Jewish communities as a result."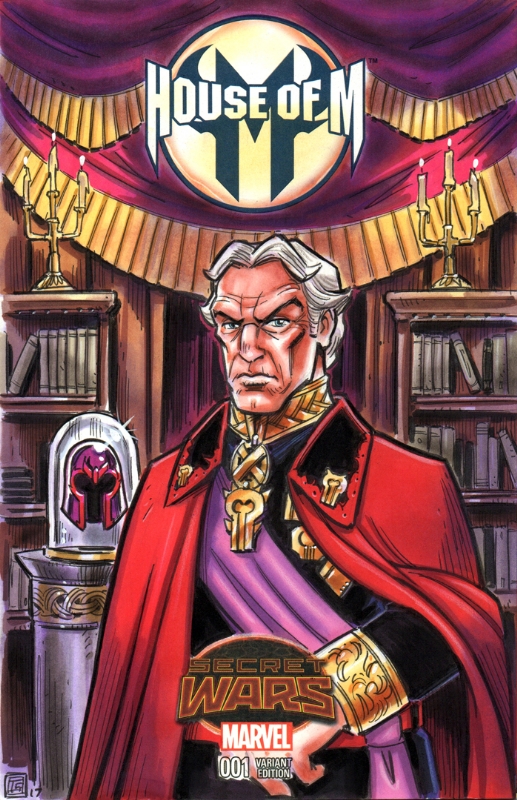 In the X-Men saga House of M, Magneto does not think twice about warping reality itself to create a world where his kind, the mutants, reign supreme and ordinary humans find themselves on the bottom rung. He justifies this radical upheaval as the ultimate safeguard for mutants against human hostility, revealing his willingness to rip apart the world as we know it to impose his own worldview.
On the same note, we have George Soros, the proverbial kingpin of the Open Society Foundations, who is well-known for backing countless causes across the globe, all with the aim of modifying society to match his vision. His fingerprints are on everything from the push for democratic governance to so-called "social justice" and "human rights" initiatives. Numerous critics, especially those holding conservative viewpoints, have voiced concerns about his efforts to wield influence over political and societal structures in line with what many perceive as a totalitarian progressivist ideology.
While Magneto's actions in the comic books are characterized by their dramatic and immediate nature, Soros' influence operates in a more covert manner over an extended period. In the pages of the X-Men comic books, Magneto has been depicted engaging in grand schemes such as launching massive attacks on mankind, attempting to establish mutant supremacy, and even orchestrating an all-out war against non-mutants. His magnetic manipulation powers allow him to wield destructive force and control metal on a large scale. On the other hand, Soros' influence in the real world is not through mutant powers but rather through his economic prowess and political connections. He has been known to fund political campaigns, support organizations promoting progressive causes, and use his wealth to sway mass perception. While Magneto's actions may be the stuff of fantastical storytelling, Soros' impact can be seen in the real-world systems and institutions that his financial clout allows him to influence.
George Soros is under suspicion again, this time due to his murky ties with Manhattan District Attorney Alvin Bragg. Bragg, who seemed all too eager to slap criminal charges on former President Trump over a 2016 hush money payment, conveniently found his campaign coffers swelling with contributions from a political action committee that Soros generously topped up in 2021. While the Washington Post would have you believe that Soros did not directly fund the Manhattan district attorney, a contrary perspective suggests otherwise. This, as some say, is classic Soros – operating behind the scenes, pulling the strings, and ensuring his liberal agenda is propagated by the right puppets in the right places. The billionaire might not have signed a check directly to Bragg, but he is still influencing the game by pumping money into a political action committee that supported Bragg. Many reckon that Soros is engaged in a calculated pursuit with a clear objective: to promote his twisted ideals by employing whatever means necessary.
Whether you are on board with Musk's incendiary comments or not, one thing is sure: he is not afraid to give voice to the apprehensions that echo among conservatives far and wide. By putting a high-profile figure like Soros under the microscope, Musk is doing what many would not dare: tearing down the smokescreen that has long obscured the machinations of those running the Left's puppet show.
Musk's tweets inject a refreshing transparency into the often opaque Twittersphere, revealing the inconvenient truths that some would rather keep swept under the rug. For his courage to challenge the status quo and unmask the puppet masters of the political theater, we cannot help but tip our hats to Musk. The Twitter titan is doing a public service by giving the silent majority a voice and ensuring the powerful elites are held accountable. Let the truth prevail!